Viewranger in for review


Article by: Darren Griffin
Date: 19 Nov 2009



We've covered Viewranger software many times in the past but it has been a while since we revisited the application.

Maintaining a variety of devices to cover every requirement isn't possible but Viewranger were kind enough to loan us a Nokia 5800 so we could evaluate the latest software release.

We'll be using the software in earnest for a full review shortly but first impressions are very good. The software is aimed at a wide range of outdoor users and provides access to maps from Ordnance Survey in the UK as well as maps from national mapping agencies in other countries.

In addition to locating you on a map, Viewranger has a unique 3D panoramic view mode that shows you what you can see from your position with labels identifying the topography.

You can also navigate using waypoints, record tracks, take geotagged photos and track others using Viewranger with the 'Buddy Beacon' feature.

Full data management is catered for and you can browse and buy maps on-line direct from your handset.

Our full review will be available shortly but more details can be found at the Viewranger website.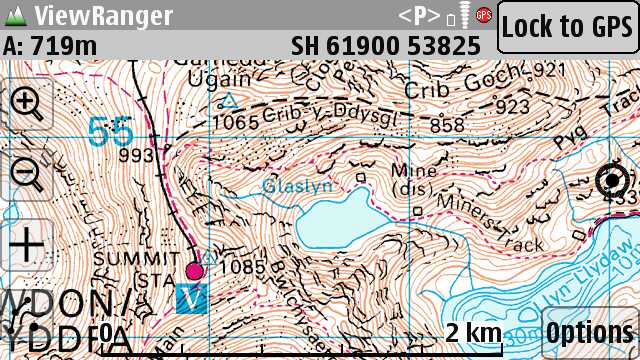 Landscape View 1:25k Snowdonia
Ordnance Survey mapping © Crown copyright. Media AM101/09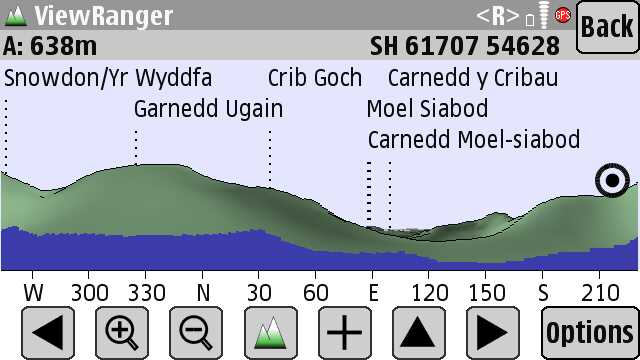 Panorama View Snowdon 1:25k
Comments
Posted by diggerhole on Thu Nov 19, 2009 8:43 pm

Been using Viewranger since my 6680, and it continuously delivers for all my hiking and cycling needs. The Viewranger team are helpful to the end even for the daftest question and always happy to consider feature requests.

A must for any GPS enabled Nokia

Keith

---
Posted by axys on Thu Nov 19, 2009 9:49 pm

+1 for their service - I made a minor suggestion about routes and it was upgraded about 20 minutes later! I'm sure the contact there, Mike B, never sleeps - no matter what time I email its not too long before I get a reply. First class service, first class software. Highly recommended on a Nokia 5800 (which they are now also selling, unlocked, at a VERY good price with VR).

---
Posted by Darren on Thu Nov 19, 2009 9:53 pm

Indeed. It's one of the difficulties we have maintaining sufficient devices to cover all markets. We try but Nokia is the one we rarely have covered.

Thankfully Viewranger are expanding to other platforms which is great news.

---

Darren Griffin - Editor
Posted by axys on Thu Nov 19, 2009 10:08 pm

Whilst its principally Nokia, it will run on other Symbian phones - Samsung and Sony for instance, and I believe the iPhone is slated for the first part of next year. Good review here
www.outdoorsmagic.com/news/article/mps/uan/6280

---
Posted by Darren on Fri Nov 20, 2009 11:50 am

Indeed, I'm looking forward earnestly to an Android or iPhone release of this software.

The 5800 is a nice device and works well with Viewranger but I find the Nokia software very antiquated and the touch screen needs very firm clicking to select, so much so that I have resorted to using the stylus.

When I first picked up the 5800 I spent 20mins trying to get it to slide open to reveal a keypad! It has some grooves all around which suggested to me this was a slider type handset with QWERTY keypad. A quick delve into the manual revealed my mistake

None of this detracts from the software though which is very fluid and well thought out.

---

Darren Griffin - Editor
Posted by axys on Fri Nov 20, 2009 12:28 pm

Generally I find the screen very responsive - it really only needs the lightest of touch (and can be used easily with light gloves) but sometimes, as you say, you need to be firm with it. You can calibrate the screen sensitivity from within Settings. Its not as good as the iPhone, but then its less than half the price!

---
Posted by pcaouolte on Fri Nov 20, 2009 12:41 pm

When out walking I use Viewranger on a Nokia 5800 in a waterproof "bag" from Overboard. You can operate the phone without removing it from the bag.

The battery life on the 5800 is good enough for a full day walking with the Viewranger software running and tracking position provided that the screen is allowed to go off when not needed.

I also use the 5800 and Viewranger to record tracks in the car for use with Open Street Map.

Fantastic software with fantastic customer service.

---

Paul
Posted by The Rudd on Sun Nov 22, 2009 7:58 am

Good morning I hope that this is not a silly question.

I have garmin mobile XT on my 5800, if I want to run the VR map will I need to put the 8gb sd card back into the Nokia 5800. I think that it looks as if I can't run XT and VR.

Many thanks

Jerry

---
Posted by Darren on Sun Nov 22, 2009 8:24 am

Does XT only run on its own memory card? Can't you copy XT to a larger card?

---

Darren Griffin - Editor
Posted by The Rudd on Sun Nov 22, 2009 8:46 am

Hi Darren

Xt runs on it's memory card, it's not possible to copy to a larger card as Garmin disabled that feature. It looks as if I can't use both at the same time.

Thanks

Jerry

---
Posted by Darren on Sun Nov 22, 2009 9:00 am

I'm afraid so. I really wish manufacturers would choose a different protection mechanism than locking the application to the memory card.

---

Darren Griffin - Editor
Click here to view more comments...