Video iPhone launch day in Apple Store UK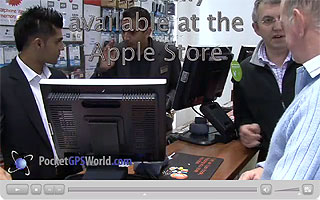 Last Friday saw the launch of the iPhone 3GS across the globe. We decided to take a plunge and go to London UK?s Apple Flagship store to get our shiny new iPhones, and also to document the day.

The queues in the Apple Store were mad. Hundreds of patient users waiting to part with hard earned cash for a new iPhone 3GS. In true Disney style Apple managed to snake the queues round to cram as many people into the store as possible. Then with military precession they were moved from staging point to staging point before finally getting to the sales guy, and getting the new iPhone.

We also took a trip to the Oxford Street Carphone Warehouse where things where a bit quieter, CPW were only selling the iPhones on 18 month O2 Contracts.

The video covers us tramping round London to find some iPhones, and also shows the quality of the new video camera in the phone. This video was taken in my car whilst in a HR iPhone mount.

Click here to view the video...
Comments
Posted by suziedog on Thu Jun 25, 2009 7:06 am

First thing I have to say about the video is - I love the music! Who is it?

I have the I Phone 3G S 32gb and I love it. I upgraded from the normal 3G 16gb.

The new phone has a much better camera with a good video included. The biggest difference is the speed at which the new phone works.

Apple have made some great changes and web pages render much faster.

Also games play better and load faster. In a nutshell I can't find anything to criticize to date. I think my days with Nokia are well and truly over.

---

Tom Tom 740 GO LIVE
I PHONE 3GS - 32GB
Posted by mostdom on Thu Jun 25, 2009 7:20 am

I'm getting one, thats all there is to it!

---

Dom

HERE LIES PND May it rest in peace.
Navigon 7310/iPhone Navigon&Copilot
Posted by Darren on Thu Jun 25, 2009 8:40 am

mostdom Wrote:
I'm getting one, thats all there is to it!

Where have you been?

---

Darren Griffin - Editor
Posted by MikeB on Thu Jun 25, 2009 8:50 am

suziedog Wrote:
First thing I have to say about the video is - I love the music! Who is it?



The soundtrack for the video comes from the Apple Soundtrack Pro library of royalty free loops. I have no idea who the artist or composer is.

---

Mike Barrett
Editor, PocketGPSWorld.com
Posted by Darren on Thu Jun 25, 2009 9:18 am

The really big news of course is that Apple have had a change of heart and now the 3G S is called the 3GS!

Thank gawd for that, it was real PITA to type and confused the hell out of search engines.

---

Darren Griffin - Editor
Posted by MikeB on Thu Jun 25, 2009 10:35 am

Apple naming conventions are a little messed up with the iPhone. All other iProducts are 1G,2G etc with G standing for generation, but with 3G being the technology it gets confusing. There are even people revering to the original iPhone as the 2G...

It will be interesting to see what they call next year's product. Maybe the 4G to run on 4G wireless networks...


---

Mike Barrett
Editor, PocketGPSWorld.com
Posted by mostdom on Thu Jun 25, 2009 11:52 am

MikeB Wrote:
Apple naming conventions are a little messed up with the iPhone. All other iProducts are 1G,2G etc with G standing for generation, but with 3G being the technology it gets confusing. There are even people revering to the original iPhone as the 2G...

It will be interesting to see what they call next year's product. Maybe the 4G to run on 4G wireless networks...




Yep had the same conversation with a non isavi mate!



Darren Wrote:
Where have you been?


Is that an iPhone related question or are you actually asking where I have been all this time?

---

Dom

HERE LIES PND May it rest in peace.
Navigon 7310/iPhone Navigon&Copilot
Posted by Darren on Thu Jun 25, 2009 12:03 pm

mostdom Wrote:

Darren Wrote:
Where have you been?


Is that an iPhone related question or are you actually asking where I have been all this time?


The latter Thought you'd emigrated or gone to the opposition

---

Darren Griffin - Editor
Posted by mostdom on Thu Jun 25, 2009 12:07 pm

Darren Wrote:
The latter Thought you'd emigrated or gone to the opposition



I've been quietly watching in the wings but recently have had other distractions taking up my time, mainly work! Nothing exciting I'm afraid. Groan

---

Dom

HERE LIES PND May it rest in peace.
Navigon 7310/iPhone Navigon&Copilot
Posted by mostdom on Fri Jun 26, 2009 2:40 pm

3GS now on order. Can't come soon enough!

Got another Navigon app I can trial for you?

---

Dom

HERE LIES PND May it rest in peace.
Navigon 7310/iPhone Navigon&Copilot