VNC Announces Automotive Solution For Smartphones


Article by: Darren Griffin
Date: 27 Feb 2011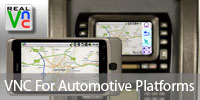 RealVNC, purveyors of remote screen display and computer control software, have unveiled a solution for automotive use.

If they can persuade manufacturers to adopt the platform using RealVNC's software development kit, it will be possible to view and control your smartphone display and running software on an in-dash display in your vehicle.

The possibilities for such a solution will be obvious, a large built-in display and access to touch screens, steering wheel mounted controls, jog dials or other fitted control interfaces.

Users benefit from being able to use their preferred navigation app, music player and other applications using an interface they will already be familiar with, and manufacturers benefit because the burden of supplying and maintaining a navigation solution is taken away from them. All they have to do is support VNC's communication protocols.

RealVNC had a demo system on show at MWC and we were shown a working solution running on Android, Blackberry and iOS. The solution worked very well and it's a great solution that deserves to be adopted.

The stumbling block will be the automotive manufacturers. They are very slow to take on-board innovations such as this but we hope they can be persuaded as to just how good an idea this really is.
Click for larger images


Comments
Be the first to comment. Click on Post Reply below.