Twitter: Follow PocketGPSWorld

Stephen Fry and President Obama are the top two who do it, Chris Moyles, Philip Schofield, Jonathan Ross and Suzi Perry do it. TomTom, Navteq and NavNGo do it.

Social Networks, love 'em or hate 'em they're hear to stay. Many of you will already know of or be members of MySpace and Facebook but what about Twitter?

Anyone can join and become a member of the Twitterati. Twitter is a micro-blogging platform where members can post short (up to 140 character long) 'Tweet's which are delivered to your Twitter followers. Think of it as a cross between MSN and SMS.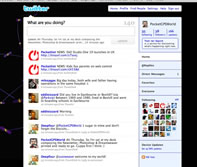 The beauty of Twitter is it can be accessed via web, mobile phone Twitter apps, SMS, desktop widgets, browser plugins etc etc and because it is so simple and short you can post quickly and easily and include links to websites, pictures etc. You choose who you want to follow and who can follow you and you can get a little insight into the daily lives of celebrities, companies and just chat amongst friends and colleagues.
We've been using Twitter for a few weeks now and it is very addictive, I confess I still don't really grasp the point of FaceBook but Twitter is instantly understandable.

It's free to join and free to access, so why not give it a go, sign up at www.twitter.com and then add PocketGPSworld to your 'follow' list.
We might even follow you! We can also highly recommend TweetDeck, a free Adobe AIR desktop app to access Twitter.
Look forward to seeing you all on Twitter soon!
Comments
Posted by MikeB on Thu Mar 19, 2009 11:42 am

You can also follow my tweets too. I can be found at http://www.twitter.com/mikepgps (no copy and paste on my iphone ). It is fun and another way to keep your finger on the pulse of technology or just keep up with friends.

---

Mike Barrett
Editor, PocketGPSWorld.com
Posted by MaFt on Thu Mar 19, 2009 2:14 pm

or just to use it as blatant publicity for your company...!!

MaFt

edited to add:

sorry, just to clarify, i was referring to TelNav in this instance!! with regular posts such as "wow, telnav just got me to my destination AND with time to spare!" it got that annoying i just stopped following them...

---