TomTom goes designer - Meet the White Pearl Special Edition

TomTom have announced a new Special Edition ONE, the oddly named White Pearl.

Based upon a TomTom ONE IQ Routes Edition, the White Pearl is loaded with maps of 42 European Countries, has the EasyPort mount and a white case with a decorated bezel embellished with a swirl pattern.

Clearly aimed at the ladies (and why not), the White Pearl has a silk drawstring bag to protect it from scrapes and is also loaded with a special selection of Points of Interest including 'Places to be seen' and 'Shop 'til you drop' which encompass restaurants, shops, bars, cinemas and fashion stores (so that's the WAGs taken care of).

The White Pearl (I wonder if the Black Pearl is coming complete with 'Ahoy There' and 'Land Ahoy' Voice navigation is coming next?) will be available from Amazon.co.uk this month, retail price £174.99.
More informataion at www.TomTom.com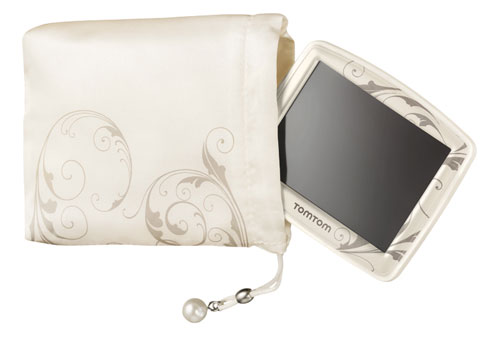 Comments
Posted by Andy_P on Tue Jun 02, 2009 11:24 am

It's not April the 1st again already is it?

---

"Settling in nicely" ;-)
Posted by Kar98 on Wed Jun 03, 2009 4:07 am

Darn. The wife wants one in purple now. Or green.
Does this mean I'll get my One back?

---
Posted by Calomax on Wed Jun 03, 2009 7:35 am

Horrid, isn't it. Hope it's cheap being so down-market.

---

TT Go Essential
Posted by Anita on Wed Jun 03, 2009 11:49 am

Calomax Wrote:
Horrid, isn't it. Hope it's cheap being so down-market.


Couldn't agree more - it's hideous!

What's wrong with the standard black/silver? Do some women really want these tacky versions?

---

Anita
TomTom VIA 135 - App 12.075,
UK map 1095.11581
Samsung Galaxy S8
Posted by GerryC on Wed Jun 03, 2009 12:31 pm

Anita,

If the "swirl pattern" on the bezel doesn't appeal to you then surely the "silk drawstring bag" must be getting you excited.

I'll reply for you:

I do know some girls who would get it just because of this unfortunately. If it gets a few sales for TomTom just by putting a pattern on the unit and packaging it up a bit then all credit to them.

---

Gerry
TomTom730T
Cameralert for Android
Brodit ProClip mount
Posted by MaFt on Wed Jun 03, 2009 12:54 pm

i'm still waiting for the pearl necklace version...

sorry...

---