Route66 - Innovative Navigation with AR Follow Me Feature


Article by: Darren Griffin
Date: 17 Feb 2011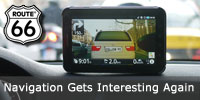 Just when we were beginning to give up hope of finding anything truly new and interesting at Mobile World Congress we hear the Route66 were showing a new navigation application.

And so we looked them up. Although not exhibiting, Route66 had a small meeting room and were demonstrating the software to manufacturers and partners. Paul Warmer, VP of Marketing gave us an in-depth demo of the software which will launch on Android soon.

Route66 have chosen TeleAtlas map data and the software has a number of unique features.

The headline innovation for us was FollowMe. A superbly innovative Augmented Reality (AR) mode that places a target car over a real world view, acquired using the smartphones camera, coupled to a traditional information ribbon across the bottom of the screen.

You navigate by following the target car which moves further ahead as your speed increases and falls back as you slow down, in much the same way as real cars do. When a turn approaches, the virtual FollowMe vehicle even indicates and can be seen to take the turn ahead of you.

It's a simple idea that has been superbly executed. We were given a demonstration with a drive around Barcelona and it was easy to see how well it worked and how natural it felt.

Route66 have also designed the traditional mode so that you can zoom in and out, adjust the angle of view from 2D to 3D and any angle in between and even rotate the map using simple touch screen gestures.

All this is done from the main map view and can be done during navigation without interrupting the calculated route. 3D building data makes an appearance too, provided by TomTom, as is the map data on which it sits.

The version we saw was still being fine tuned but it worked well and had clearly been well thought out. Another interesting feature is the delivery mechanism. The application will be available for free and map data, broken down by country, can be used for 30 days free of charge. After 30 days you lose access to navigation and turn by turn voice guidance.

It's an interesting concept which will allow potential customers the opportunity to try before they buy.

We'll bring you more news and a full review once the finished product is available but for now, more information and some product video can be viewed at Route66's web-site here and a quick video we shot during the tests drive can be seen here.
Click Thumbnail for larger versions
Comments
Posted by Pocketgps on Thu Feb 17, 2011 1:15 pm

Very clever.

But surely very distracting

---
Posted by Darren on Thu Feb 17, 2011 2:00 pm

No more so than any other navigation system, it takes no more time to glance at the screen in this design than any other and it's far easier to digest the information.

---

Darren Griffin - Editor
Posted by tomthompson on Thu Feb 17, 2011 4:21 pm

The question is what happens if you take the wrong turning , does someone in the back of the car moon at you ?

---

Asus Zenfone 2 twin sim, Garmin Zumo 550, 660 and pocketgps speed camera database

I keep on learning but they invent new things faster ,How do I keep up ?
Posted by Andy_P on Thu Feb 17, 2011 7:27 pm

For a moment there, I thought it was something rather different.

I thought "Follow me" meant it could "chase" a particular car ahead.

How many times have you tried to follow a friend in another car and then lost them because you got stuck at lights or whatever?

Something to help in that situation WOULD be handy!

---

"Settling in nicely" ;-)
Posted by MaFt on Thu Feb 17, 2011 7:50 pm

Andy_P Wrote:
For a moment there, I thought it was something rather different.

I thought "Follow me" meant it could "chase" a particular car ahead.

How many times have you tried to follow a friend in another car and then lost them because you got stuck at lights or whatever?

Something to help in that situation WOULD be handy!



a telephone call to say "slow down!".

unless of course you're stalking them...

MaFt

---
Posted by exportman on Fri Feb 18, 2011 1:03 pm

MaFt Wrote:


telephone call to say "slow down!".



MaFtFt



Hands free of course

---
Posted by yee_har on Tue Apr 19, 2011 2:24 pm

Do the mods/staff have the inside track on when this is due to the market?

I'm on their "advise me" list (or should be) but just wonder if there's anything on the grapevine.

Cheers

---
Posted by MikeB on Tue Apr 19, 2011 2:45 pm

yee_har Wrote:
Do the mods/staff have the inside track on when this is due to the market?

I'm on their "advise me" list (or should be) but just wonder if there's anything on the grapevine.

Cheers


We havent heard anything since MWC in February, but we are expecting it any time now.

---

Mike Barrett
Editor, PocketGPSWorld.com
Posted by yee_har on Tue May 10, 2011 1:03 pm

Cheers MikeB.

Apologies for delay in replying - I wasn't lost, honest!

---