Renault partner with ALK - Launch NavTruck app


Article by: Darren Griffin
Date: 2 Mar 2011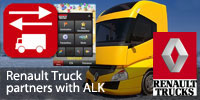 Renault have partnered with ALK technologies to develop a version of the popular CoPilot Truck app customised for use by professional drivers.

Launched first on iPhone (isn't everything these days?), NavTruck offers truck specific routing with options to avoid restricted roads based on vehicle dimensions input by the driver.

Additional features include on-screen warnings for potential hazards including turning off restricted routes and vehicle profiles can be saved allowing easy use of the app across multiple vehicle types and classes.

NavTruck also supports multi-drop with waypoint optimisation allowing delivery drivers to create optimised routes that make best use of their time and reduce fuel wastage and journey times.

More information can be found in the user-guide here and the app is available via the iTunes Appstore here prices at £114.99 for the European map version.
Click images for larger versions


Comments
Be the first to comment. Click on Post Reply below.