Reviewed By

Darren Griffin
Review Date
6th March 2011
Manufacturer
Otterbox

USA RRP

UK Street Price

$49.95

£33.00

7.5
Otterbox's Utility Series Latch for iPad (let's call it 'Latch' for short) is a difficult product to describe. We first came across it on the Otterbox stand at Mobile World Congress in Barcelona and it wasn't until we had a quick demonstration that we were able to see just how useful it actually was.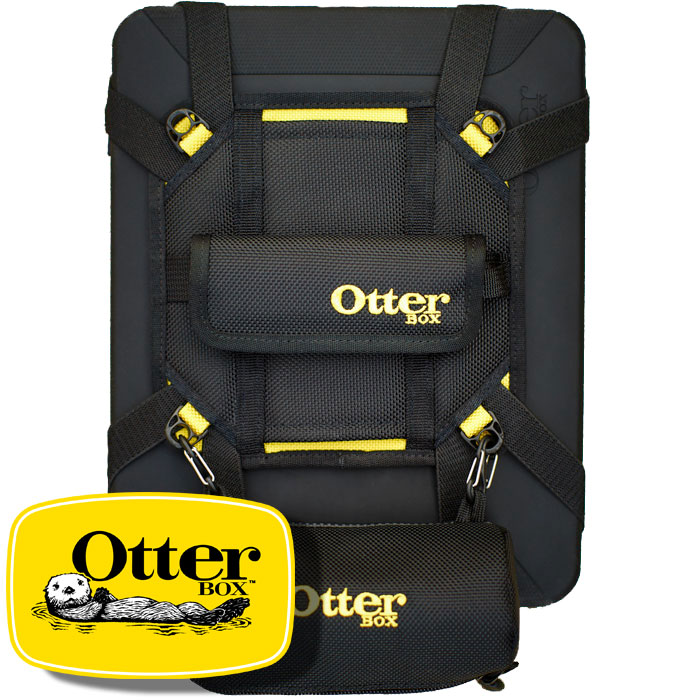 You would be forgiven for not paying the Latch a great deal of notice at first glance. The yellow colour lends it a utilitarian air and suggests it is aimed at the construction industry, but once attached to an iPad, the possibilities and potential uses quickly become apparent.
The provision of a hand grip, a small bag stuffed with clips and straps and a waterproof cover, combine to provide a truly useful iPad accessory that is a good deal more than the sum of its individual parts.
Oh and you don't have to work on a building site to use one!
The core of the Latch design is a square panel of heavy duty material. At each corner of this panel are elastic loops. These loops stretch around the corners of your iPad and attach the Latch to it. The panel also has small rings at each corner to which a neck strap or the small accessory bag can be clipped, a hands strap and a large loop.
The Latch can be attached to your iPad in either portrait or landscape orientations, allowing the hand strap to work in either mode. This panel also has a slot through which the wide elastic strap can be threaded.
Otterbox recommend the Latch is best used in combination with one of their iPad cases, e.g. the Defender or Commuter (reviewed here). This is good advice should you plan on using your iPad outdoors but the Latch will work equally well with any other iPad case you may use and will also fit perfectly well without a case at all.
Hand strap, Lanyard, and Waterproof Cover
In the attached accessory bag you will find a splash proof cover, a lanyard, a large carabiner type hook/clip and a wide elastic velcro secured strap.
So what is this whole ensemble for exactly? It fulfills a number of purposes, so let's take them one by one:
It's a hand strap. The rear hand strap, adjustable by means of velcro and encased in a padded outer cover, allows you to hold an iPad comfortably with one hand whilst typing or interacting with the screen using your other hand. Ideal for anyone who uses an iPad to enter data on the move.
Using the elastic strap, the latch can be attached to a headrest in a vehicle or it can be secured to your leg (ideal for pilots).
The lanyard, clips to any two of the four corner attachments and allows it to be carried bag style and to be supported in front of you whilst being used.
The supplied carabiner clip can be attached to the fitted loop and used to hand the latch from a hook or secured to another object.
The accessory bag, when it is used to store the accessories, can be used as a support to allow the iPad to be tilted for optimum viewing on a table or airline meal tray etc. This can be done in portrait or landscape.
And finally, the elasticated waterproof cover offers some protection from the elements.
So you'll see that it is very adaptable. I've already used it in-car attached to a headrest which works well as does the handgrip and the support feature. Since first using it I've found a number of new uses for it and its design allows it to adapt for any manner of circumstances.
Verdict
The Latch is a unique solution and one which caters for a number of scenarios. It's genuinely usefully and the accessories combine to make it adaptable and work well. Being able to quickly secure it to a headrest in-car, or to support it on a table or armrest is a boon and for anyone who has to enter data on the move, or finds the iPad uncomfortable to hold for any length of time, then the hand grip resolves that issue.
The £33.00 UK price may seem a tad expensive but it's well made, and, based on experience of other Otterbox products, will last a lifetime. If you add up the cost of a stand, strap, handgrip, waterproof cover and headrest mount then it begins to look like great value.
It would be ideal for any form of travel and if you do use an iPad in your daily outdoor work, then this may be just what you have been waiting for!
Headrest Strap - Stand Front and Rear
Bundled Accessories - Hand strap - Accessory Bag Attached