New Features On SpeedCam Download Page

Some of the more eagle eyed amongst you will have already noticed the new features but for those of you who haven't we have introduced two new changes to the camera download page.

These features have been born from requests and suggestions in the forums (thanks elljay for the nudge on this!).

The first is a Quicklink directly above the drop-down database pick list. This tells you what database version and type you last downloaded AND provides a button that will repeat your previous selection on the current database.

For the majority of you this will greatly simply database selection and remove the need to manually choose the manufacturer and type for every download.

The second change is a modification of the SatNav System PickList (the first drop-down list). we now have the most popular manufacturers at the very top of the list and the standard alphabetical list of ALL supported devices directly below. The Most Popular devices will reflect the previous download trends and whilst at present only Garmin and TomTom occupy a place there we will review them on a regular basis and add other popular brands as required.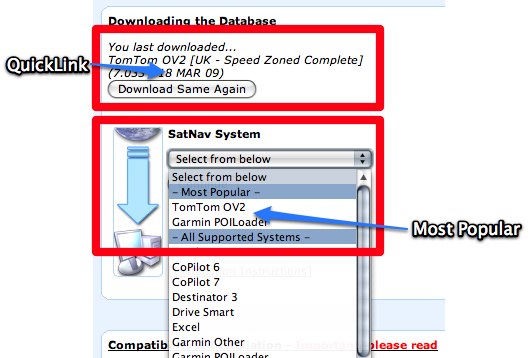 We have also removed the single file download option for a number of manufacturers. Single file was a throw back to the early days when devices couldn't accommodate large numbers of POI groups but with the arrival of consolidated and speed-zoned versions it has become superfluous and when used can confuse new users. We recommend Consolidated as the best compromise between complexity and delivery of important information such as Camera Type and of course Speed-Zoned for those comfortable with the configuration process.

We're always looking for ways to improve the download system which is necessarily more complex than some as we support 40+ devices and hundreds of download combinations. If you have any suggestions on how to improve the system then let us know. If we think they can be implemented then we will.
Comments
Posted by M8TJT on Thu Mar 19, 2009 11:46 am

Not to mention a brief appearence of Jeremy Clarkson yesterday (or was it the day before? )

---
Posted by Darren on Thu Mar 19, 2009 12:01 pm

<cough> ah yes, very brief.

---

Darren Griffin - Editor
Posted by Trevor on Thu Mar 19, 2009 7:22 pm

Very nice and subtle changes ...I like it
Many Thanks

---
Posted by elljay on Fri Mar 20, 2009 4:50 pm

Famous at last!

---
Posted by PeterSm on Fri Mar 20, 2009 8:30 pm

Excellent and Thanks...Now for somthing similar on the POI's.....

---

DriveSmart 61 LMT-D
Posted by Oldboy on Fri Mar 20, 2009 8:56 pm

PeterSm Wrote:
Excellent and Thanks...Now for somthing similar on the POI's.....

Different game, different rules I'm afraid.

---

Richard

TT 910 V7.903 (9183/081205) OS:2344
Europe version 1045.10005
TT Via 135 App 12.075
Western Europe v1095
Posted by Tom59 on Sat Mar 21, 2009 10:27 pm

Oldboy Wrote:
Different game, different rules I'm afraid.

Hello Oldboy, is it not just a case of a database, recording who downloaded which *.ov2 file and allowing a link to the same set in future?

---

TT Go 720 (T)
Firmware 9.430. Map: Western Europe V 875.3613

TT iPhone app
V 1.23 Map: Western and Central Europe 2 GB V 965.7286

TT iOS Go Mobile
V 1.1 Map: Western Europe 965.7248
Posted by Oldboy on Sun Mar 22, 2009 7:04 am

Unfortunately it's not that straightforward.

As the files are generated 'on the fly', the OV2 is not created until the request is selected and made.

There are 734 Subcategories, with over 180,000 locations. To have all these as individual files, in Categories and Subcategories (and in both formats), would be a horrendous job to maintain. There is also the question of country specific files which would add to the logistics horror.

Each Add/Change/Remove would need a re-build of 4 files, to keep it as up-to-date as it is at the moment.

As it is you can combine Countries and Subcategories to generate a personalised file, something that would be impossible in any other way, and always with the current data available.

---

Richard

TT 910 V7.903 (9183/081205) OS:2344
Europe version 1045.10005
TT Via 135 App 12.075
Western Europe v1095
Posted by PeterSm on Tue Aug 25, 2009 9:31 pm

OldBoy..cheers cool with that, thought it would be a bit more complicated...

Be nice though if there could be a select all/none button for all those checkboxes...

p.s cool Avatar..but i think i pinched yours!!!

---

DriveSmart 61 LMT-D