NNG Release Navgate Drive with Pioneer AppRadio Integration



Article by: maft
Date: 6 Jan 2012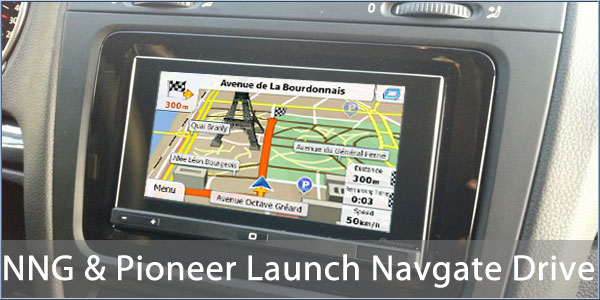 Pioneer and NNG have launched Navgate Drive, an iPhone navigation app powered by NNG's iGO MyWay engine. The app gives the usual offerings of connected features (Google local search, Live Traffic), 3D navigation, multiple routing options (including Green routing) and Text-to-Speech (TTS).

So, a pretty standard iPhone navigation app then? Well, actually, the beauty of Navgate Drive is that it integrates with Pioneer's AppRadio - a double-DIN after-market stereo with 6.1" WVGA (800 x 480) capacitive multi-touch screen and a unique 'Advanced App Mode' for compatible iPhone apps. Connect your iPhone to your AppRadio and Navgate Drive will run on the giant screen in your dashboard instead of on your phone.

The idea of full smartphone integration with a car stereo is, in itself, not very new - we covered a Nokia / Navteq solution back in 2009. We also reported on a similar idea from RealVNC back in February last year. However, the Pioneer AppRadio is the first such system (that we're aware of) that integrates your iPhone with the stereo and also offers extra features for app developers to integrate their own iPhone apps with the AppRadio.

Navgate Drive is available now in the Apple AppStore.

The full press release follows:


PRESS RELEASE, For immediate distribution
5. January 2012

NNG and Pioneer's AppRadio Set New Standard in Mobile Integration

NNG has integrated a new, innovative iPhone navigation application with
AppRadio, the award-winning in-car device from Pioneer. Running on the
iGO My way Engine the app not only delivers navigation for the car
dashboard, but also combines the best of mobile and in-dash features.

Budapest, Hungary – Pioneer and NNG LLC have announced their
cooperation on a new iPhone navigation application that has just entered
the Apple App Store – the compatible solution for Pioneer's AppRadio
aftermarket device in Europe, Australia and New Zealand. NNG has
developed a fully customized application and user interface based on the
iGO My way Engine that can be connected to Pioneer's AppRadio
infotainment unit. The application is now available to iPhone and
AppRadio owners as Navgate Drive.

AppRadio has received industry wide acclaim for connecting iPhone
capabilities with dashboard screens, initiating a new trend in the
automotive industry. The innovative solution has recently won the
prestigious Eisa Award. The new integrative technology offers all the
advantages of built-in infotainment systems – large touch screen, easy
utilization and optimal in-dash placement for limited driver distraction
– while all applications also work outside the car on the user's
iPhone. The link between the iPhone and the Pioneer head unit is
established through a cable connection and the free AppRadio iOS app.

Based on the iGO My way Engine, the new navigation application
integrates Pioneer's Advanced App Mode SDK (software development kit),
enabling Pioneer to round up the experience of AppRadio by delivering
easy-to-use feature-rich navigation that matches the look and feel of
its products. Powered by NNG's stable and experienced engine, the
application combines the best of both mobile and in-dash relevant
features such as personalized smartphone settings, fast iPhone
performance, connected features (Google local search, Live Traffic),
high definition 3D navigation, multiple routing options including Green
routing and advanced Text-to-Speech (TTS) for more detailed instructions
and audio route summaries through the car's audio system.

"Our recent market research has indicated a rapidly growing demand
for smartphone functionalities in the car environment, with navigation
being number one in the list of required services. Pioneer has just set
a new industry standard by enabling this bridge between iPhone and car
dashboard. We're excited to have iGO Navigation onboard to provide a
complete circle of mobile functionalities with a first-class navigation
app," said Ronan McDonagh, General Manager Car Multimedia Technology
Planning at Pioneer.

"Until recently, smartphone and dashboard navigation have been in
fierce competition. Based on NNG's experience in both industries, we
support Pioneer's convergence of iPhone and aftermarket device.
Smartphone and automotive suppliers are in the process of discovering
new opportunities to shape the future of navigation, and NNG is proud to
be part of it, while Pioneer is well ahead in making these innovations
reality," said Gergely Homola, iPhone Business Unit Leader at NNG
LLC.

About Pioneer
Pioneer's Car Electronics Division is known for its in-car products
that make driving more enjoyable by offering high quality audio and
video, seamless connectivity and ease-of-use. Its focus is on the
development of new digital technologies including audio video,
navigation and emerging media, while maintaining its strong heritage in
products for car audio enthusiasts and sound competitors.
Pioneer Europe is headquartered in Melsele, Belgium, and its web
address is www.pioneer.eu. Its parent company, Pioneer Corporation,
established in Tokyo in 1938, is a leading global manufacturer of
high-performance audio, video and computer equipment for the home, car
and business markets.

About NNG LLC
NNG LLC is one of the leading navigation solution providers for the
Automotive, Personal and Wireless navigation industries, and offers
fully customizable, on-board, 3D navigation applications to device
manufacturers, auto makers and OEM brands that are custom built
according to each customer's needs. The core technology is based on
the award-winning iGO My way software engine, already installed in
millions of navigation devices throughout the world.
The company's subsidiary develops its own digital maps. The first
international product of NNG was launched in Germany at CeBIT 2006.
Since then, NNG has formed partnerships with more than 150 hardware
manufacturers worldwide. It provides innovative and reliable navigation
solutions for 107 countries and in 45 different languages.




| | | | |
| --- | --- | --- | --- |
| | | | |
Comments
Posted by Strawbs on Fri Nov 23, 2012 3:48 am

any pgpsworld review on this app yet?

---

iPhone 12 Pro