NAVTEQ to provide charging station data for Nissan Leaf EV


Article by: Darren Griffin
Date: 3 Mar 2011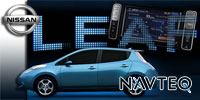 With the imminent launch of Nissan's 100% Electric LEAF, NAVTEQ have been chosen as the supplier of specialised POI data for the vehicle.

NAVTEQ will supply charging station locations to NISSAN for use in the LEAF allowing drivers of the fully electric car to locate their nearest charging points and optimise the vehicle range.

NAVTEQ EV POIs are currently available for Austria, Belgium, Denmark, France, Finland, Germany, Ireland, Italy, Netherlands, Luxembourg, Norway, Portugal, Sweden, Spain and the UK with plans to expand coverage further across Europe.

NISSAN's LEAF will be the first mainstream fully electric vehicle to go on sale and although initial production is in Japan, from 2013, European models will be built at Nissan's Sunderland plant in the UK.
For more information on the Nissan LEAF visit the LEAF microsite here.
Click thumbnails for larger versions


Comments
Be the first to comment. Click on Post Reply below.