Mio Navman 575 Reviewed



Reviewer: Darren Griffin
Date: 27 Sep 2010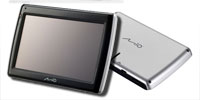 It has been quite a while since we had the opportunity to review a Navman PND. It was a Navman device (the Navman 3000) that took the honour as our very first review back in December 2001.

Much has changed since then. Navman enjoyed a period as one of the major players before falling out of favour. Now owned by Mio, their latest range, called Spirit, promises simpler, smarter navigation. Mio have provided us with the range topping Navman Spirit 575 model to review.

Overview
Because Mio use Tele Atlas map data, the 575 now offers IQ Routes technology, that's right, the same IQ Routes that has been a mainstay of TomTom devices for some time. Mio also offer a feature called LearnMe which promises to learn from your driving style and preferences to offer optimised routes.

Other notable features are Mio's 'Total Refresh Guarantee', which promises a free map update if a newer map is released within 30 days of purchase and integrated TMC Traffic built into the unit with the charge lead acting as the antenna.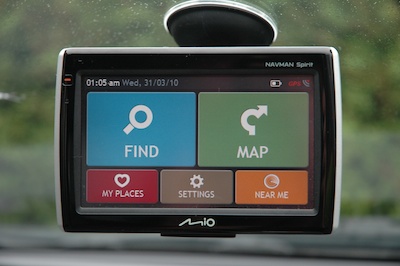 Main Menu - Click for larger version



First impressions are good, the device sports a large 4.7" touch screen in a slim and attractive silver/black case. External controls are limited to an On/Off/Reset slider switch on the top and a micro-SD memory card slot on the bottom. Power is supplied by a cigarette lighter charger which terminates in a miniUSB plug.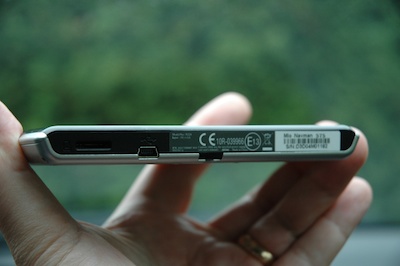 Bottom View - Click for larger version



The front of the unit is dominated by a black bezel surrounding the screen, prominent Mio branding along the bottom and 'NAVMAN Spirit' along the top. Navman's name is no longer seen as a brand leader clearly.

On the back is the speaker grille and the small slot for the windscreen mount. The mount itself is simple and compact. A lever operated suction mount with a ball/socket adjustment for the display. A convenient clip is also provided on the mount through which the power cable can be routed, the mount itself is passive and uses a separate power lead.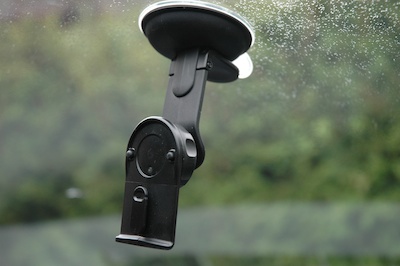 Windscreen Mount - Click for larger version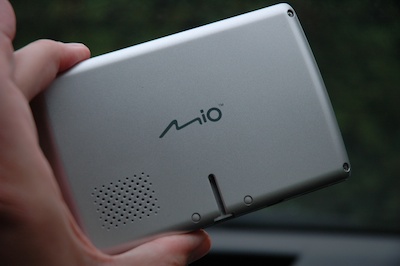 Rear - Click for larger version



In Use
Once past the initial setup you are presented with a home screen that offers you Find, Map, My Places, Settings and Near Me functions. All are simply laid out and intuitive, no problems here.

Address lookup can be performed by full address or 7-character PostCode and uses a QuickSpell, a keyboard feature that I especially like. As you type, the possible options for further letters are presented emboldened with those letters that do not form possible place name combinations greyed out. This speeds up address entry and ensures misspelled place names are not possible.

Once the number of possible matches has been narrowed down to 5 or less the keyboard is replaced with a pick list of the available addresses. A nice feature.

The destination is then presented to you with options to view on a map (always a good idea to confirm you are being directed to the right area), save the address as a favourite for future recall or begin navigation immediately.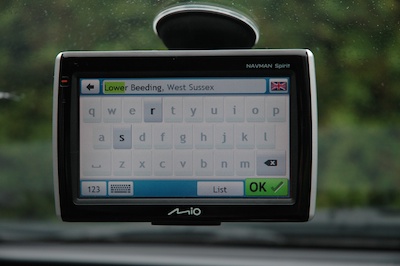 Keyboard - Click for larger version


There is nothing in the way of route options presented to you at this point. the LearnMe feature may make up for this omission but in testing it was difficult to discern any benefits. Routing itself is limited to an option in Settings for 'Fastest, Easiest or Economical'.

The map display is not, in my opinion, one of the best features of Mio's new units. It is less clear than others with place and road names written in a small typeface that can be difficult to read when the unit is affixed in the car.

Next turn information occupies a banner across the top of the display and at the far right of the banner is a user configurable section in which you can choose to display distance to go, time to go, speed or eta. It is not possible to display a combination of these.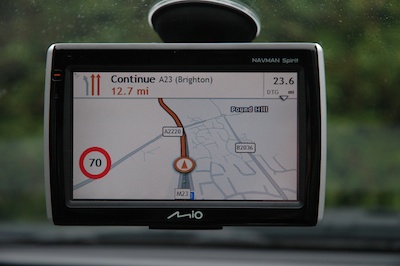 Map Display - Click for larger version


Navigation instructions are presented to you using a Text to Speech engine which can read our road and place names . But the voice is closer to those heard when this technology was first made available, more Stephen Hawkins than the natural sounding voices we have come to expect of late.

Road speed limits are displayed in a large road speed sign at the bottom left of the display, easily read and useful.

When navigating a route, tapping the display gives you access to a simplified menu which includes access to Traffic information, volume, zoom and route overview. Common options such as the ability to alter the route are not available.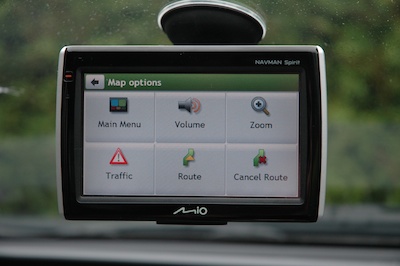 Sub-Menu - Click for larger version


MioMore software is a Windows desktop application that allows you to backup and update your device. As a Mac user I was unable to test this, no Mac version of the software exists. Access to feature such as installing third party POIs etc are not possible without resorting to the desktop software so if you are not a Windows user this could be a deciding factor.

Specification
| | |
| --- | --- |
| Display | 4.7" 480 x 272 |
| GPS Chipset | SiRFstarIII with InstantFixII |
| Processor | Samsung 2450 @ 400MHz |
| Battery | 720mAh Li-Ion |
| Size | 132mm x 85mm x 14mm |
| Weight | 160g |
| Memory | RAM: 128MB SDRAM ROM: 2GB |
Verdict
The Mio 575 is a solid well thought out device that would tick most of the boxes for any satnav user. It has a simple menu structure that is easy to navigate, a slim modern housing and large bright display. It is not weighted down by photo viewers, eBook readers, MP3 players etc and is much better as a result.

However, it feels dated, the map display is old fashioned and the user interface provides the bare minimum of information. Whilst simple to use, this has been achieved at the expense of features that you may wish to have available.

If your budget is tight and you want a basic navigation unit with no frills then Mio's 575 (RRP £149.99) will fit the bill. As a basic navigation solution it works well. But if you are an experienced user looking for more features then rivals offer better value.
Comments
Posted by xtraseller on Tue Sep 28, 2010 7:00 am

Darren I think you summed it up perfectly there, the Navman is the best basic satnav out there, if you are not in to your bells and whistles it does all the basics very well without the fuss and confusion of many of the more comprehensive and confusing offerings

In fact 4 colleagues in work have purchased over the past week as upgrades to their dating units - after seeing each others units - that says something. For me I prefer a few extra features

With regards to the data display - you can drop down the data list on the RHS and it will display all the data until you touch the screen again (which should be at the end of your journey) so solves that problem. Probably by default rather than design!

---

TomTom Go Live 6100, 600
Garmin DriveLux 50, D-Smart 70, NuviCam, 3598, 2699, 2798
Mio Navman 695
Nexus 6p, Apple iPhone 6sPlus and Microsoft Lumia 950xl running TomTom, Garmin, CoPilot, Navigon, Sygic, Here Drive, Google, Waze, MS Maps
Posted by DRAWDE on Sun Oct 03, 2010 2:55 pm

Hi Darren,

Its very interesting to read your comments about the current Mio models. I purchased a Navman Spirit Navman 500 last year of which I have to say is not a patch on my Old Navman Icn 630 of which Mio decided not to update the Maping in 2006.

In your report you did not state if the 575 has more than 12,000 POI's like the other Spirit range ( a big disadvantage if you want to download the Pocket GPS Camera Base) because as you have stated in recent articles this againwould appear to be following Tom Toms Line. What's a matter with these companies are the frightened of the competition

Drawde

---
Posted by xtraseller on Sun Oct 03, 2010 3:10 pm

Seems to be an increasingly problematic area

Navigon who have always stayed clear of custom POIs have now started introducing them, but there is a 10,000 limit I believe, and the Mio's remain at 12,000 and now TomTom remove them

I don't know but think it probably to do with the sat navs displaying more and more information, considering much more data than ever before and their programming just isn't coping with it. Thats not to say it cannot, just they are finding it increasingly difficult to achieve for some reason...

Personally I would like to see the sat nav companies introduce apps - so I could add a months updates of their own, PGPSW database or any others for say £2 or £20 / year - so I could pick and choose, and also benefit from automated uploading (unlike the current PGPSW database which is by far the most comprehensive, but a pain to keep updating - so I often don't)

Back to the POI limits, I find the static cameras fine for the units, and you can just add the mobiles, etc. which should bring you within your limits

---

TomTom Go Live 6100, 600
Garmin DriveLux 50, D-Smart 70, NuviCam, 3598, 2699, 2798
Mio Navman 695
Nexus 6p, Apple iPhone 6sPlus and Microsoft Lumia 950xl running TomTom, Garmin, CoPilot, Navigon, Sygic, Here Drive, Google, Waze, MS Maps
Posted by Darren on Sun Oct 03, 2010 5:31 pm

DRAWDE Wrote:
In your report you did not state if the 575 has more than 12,000 POI's like the other Spirit range ( a big disadvantage if you want to download the Pocket GPS Camera Base)


As Mio only supply Windows Desktop software I could not test (I'm a Mac user). So effectively Mac users can forget ever being able to update or use POIs at all.

But having checked, it is still subject to the 12,000 POI limit.

There is no technical reason why they have to have this limit, many other devices copy with a great many more POIs.

---

Darren Griffin - Editor
Posted by ssherlock on Fri Jul 01, 2011 8:33 am

Darren Wrote:

DRAWDE Wrote:
In your report you did not state if the 575 has more than 12,000 POI's like the other Spirit range ( a big disadvantage if you want to download the Pocket GPS Camera Base)


As Mio only supply Windows Desktop software I could not test (I'm a Mac user). So effectively Mac users can forget ever being able to update or use POIs at all.

But having checked, it is still subject to the 12,000 POI limit.

There is no technical reason why they have to have this limit, many other devices copy with a great many more POIs.


Sorry if this is mentioned elsewhere but I have just bought this unit (having used TomTom on a PocketPC for years).

I can't find the unit in the list of supported devices for your speed camera database - is there a way round it, and if so is there a dummies guide somewhere (again apologies if it's obvious and I am not seeing the wood for the trees!).

Thanks.

---
Posted by Darren on Fri Jul 01, 2011 8:36 am

The install guide for Navman 'S' series should cover it.

---

Darren Griffin - Editor