Leica introduce camera with GPS and Geotagging


Article by: Darren Griffin
Date: 22 Apr 2010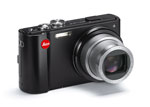 Leica, manufacturers of high quality luxury compact cameras have added a GPS equipped model to their range.

The Leica V-Lux 20 is a 12.1 megapixel compact equipped with a 12x optical zoom and GPS for geotagging. GPS tagging of images is supported by many photo library applications

This is the first Leica to feature a GPS and it will record your exact location and save that to the Exif data in the image file.

Leica also state it can "can display the names of interesting sightseeing locations from a total of 500,000 'points of interest' across 73 countries" which is novel although quite how useful that will be is hard to assess.

In addition the V-Lux 20 has a HD Movie recording facility and a 7.5cm LCD for framing photos. Auto and manual control of shutter speed and aperture is provided and an image stabiliser reduces blur and shake.

Leica also bundle Adobe Photoshop Elements 8 with each camera. Available in the UK from May 2010. RRP is a very un-Leica like £495. For more information visit www.leica-camera.co.uk.
Click thumbnail for larger image
Comments
Posted by DeLorean on Fri Apr 23, 2010 2:38 pm

It bears an uncanny resemblance to the Panasonic DMC-ZS7 / TZ10 me thinks

http://www.dpreview.com/news/1001/10012605panazs7.asp

They recommended that the GPS is left running whilst out and about with the camera to avoid having to wait for a GPS lock.
As expected this causes a significant decrease in battery life.

I wonder how well the GPS will keep track when buried deep inside and camera bag etc

Personally I use a separate geotagging device together with GPicSync.
The software is simple to use, automatically creates Google Earth KML files and you can geotag with any camera

---

🔸🔸 Currently using TomTom GO 940 & Locus Map 🔸🔸
Posted by peterc10 on Sat Apr 24, 2010 4:56 pm

It is almost identical to my TZ-7, which is a very good camera. Exactly the same Leica lens, same back. The switches etc on the top are the same although they are laid out slightly differently. Only difference is I paid £200 less for mine.

---

Peter
HTC Sensation
Sygic GPS for Europe (No more TT "support"!)
Copilot for USA
Bury CC9060 bluetooth car kit & Brodit mount
Posted by Philip on Sun Apr 25, 2010 6:54 pm

peterc10 Wrote:
It is almost identical to my TZ-7

Does the TZ-7 have GPS?

---

Philip
Posted by M8TJT on Sun Apr 25, 2010 6:58 pm

Philip Wrote:

peterc10 Wrote:
It is almost identical to my TZ-7

Does the TZ-7 have GPS?

No, but £200 for a GPS?

---
Posted by peterc10 on Mon Apr 26, 2010 10:51 am

Philip Wrote:

peterc10 Wrote:
It is almost identical to my TZ-7

Does the TZ-7 have GPS?


Nope because it's a camera.

But my GPS (which I don't use anymore) has GPS and didn't cost £200 (as M8TJT points out). And my phone (which I do use for GPS) has a camera, which allows geotags with its built in GPS and the software for that did not cost £200. Admittedly not as good quality as the TZ-7, but probably good enough for the few occassions when i am taking a photo when I don't know where I am.

And the real problem with this will be that stated by Delorean - the battery is not hefty in the Panasonic and is OK for a "normal" day's sightseeing, but would soon run down if it had to run GPS too.



DeLorean Wrote:
Personally I use a separate geotagging device together with GPicSync.
The software is simple to use, automatically creates Google Earth KML files and you can geotag with any camera



I would be interested to know how this works. Would it work with my TZ-T and a GPS equipped Android phone rather than a dedicated geotagging device?

---

Peter
HTC Sensation
Sygic GPS for Europe (No more TT "support"!)
Copilot for USA
Bury CC9060 bluetooth car kit & Brodit mount
Posted by DeLorean on Mon Apr 26, 2010 12:31 pm

peterc10 Wrote:

Philip Wrote:

peterc10 Wrote:
It is almost identical to my TZ-7

Does the TZ-7 have GPS?


Nope because it's a camera.

But my GPS (which I don't use anymore) has GPS and didn't cost £200 (as M8TJT points out). And my phone (which I do use for GPS) has a camera, which allows geotags with its built in GPS and the software for that did not cost £200. Admittedly not as good quality as the TZ-7, but probably good enough for the few occassions when i am taking a photo when I don't know where I am.

And the real problem with this will be that stated by Delorean - the battery is not hefty in the Panasonic and is OK for a "normal" day's sightseeing, but would soon run down if it had to run GPS too.



DeLorean Wrote:
Personally I use a separate geotagging device together with GPicSync.
The software is simple to use, automatically creates Google Earth KML files and you can geotag with any camera



I would be interested to know how this works. Would it work with my TZ-T and a GPS equipped Android phone rather than a dedicated geotagging device?



Any GPS device that can produce a GPX or NMEA log file can easily be used for geotagging photos

I use my Sony Ericsson K800i mobile phone with a HGE-100 GPS attached.
I run TrekBuddy in the background logging at 1 second intervals to produce my GPX log file.

Before setting off I Sync the clocks on both the camera and phone.

A whole long day only uses 2.5MB of storage and I hardly see any difference in battery life on the phone

Later I use GPicSync to add the GPS locations (geotag) to the EXIF data in the photos.

Voila!

---

🔸🔸 Currently using TomTom GO 940 & Locus Map 🔸🔸
Posted by Darren on Mon Apr 26, 2010 2:16 pm

Guys, if you want to discuss geotagging (which is fine) can we please do that in a separate thread rather than taking this one OT?

Ta muchly.

As for the similarities, Panasonic have partnered with Leica and a number of models share the same base hardware but with differences including exterior styling, firmware and the software bundled with them.

It may be argued that buying the Leica version in such cases is simply paying for the cachet of the name on the body but that's a discussion for another time.

As for GPS, yes you can buy external GPS geotagging devices, we've covered many here but they can be inconvenient and are another device to carry.

For some, the simplicity of a built-in solution will be worth the additional expense, for others it won't.

---

Darren Griffin - Editor
Posted by M8TJT on Mon Apr 26, 2010 7:25 pm

Does the topic title not include the word 'geotagging' then implying that this discussion is valid . I'll get me coat before I'm banned

---