Garmin Launch First Golf GPS watch - The Approach S1


Article by: Darren Griffin
Date: 27 Oct 2010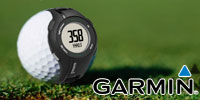 Garmin have launched the Approach S1, the first GPS enabled watch for golfers.

The Approach S1 comes pre-loaded with 5000 European golf courses and displays accurate yardages to the front, middle and back of the green.

Using the built-in GPS, the Approach S1 can measure your individual shot distances in a rugged, waterproof design that also functions as an every day watch with alarm and automatic time and time zone detection features.

In golf mode, the Approach S1 will list the nearby courses and once a course has been selected it will always display the front, middle and back of green distances for each hole as your proceed around the course. During play it will also display hole number and par and automatically transitions from one hole to the next.

One final feature is it will track the distance golfers have covered on the course or even when walking at other times.

Golfers can check if their course is supported at www.garmin.co.uk/approach and it is prices at £179.99/€199.99.
Comments
Posted by Wazza_G on Wed Oct 27, 2010 11:27 am



I'd like to see how long it'd last if you attached it to the golf ball in the picture!

---

Be alert.. This country needs more lerts.