CES Las Vegas 2011 - Garmin Nuvi 2400 - StreetPilot iPhone - GTU10 Tracker


Article by: Darren Griffin
Date: 4 Jan 2011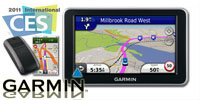 Although CES doesn't officially get under way until Thu 6th Jan, Garmin have kicked off this year with a raft of CES product news.

The most interesting news is, for now at least, US only. Garmin have finally relented and thrown their hats into the iPhone Appstore with an off-board navigation app.

The app, named 'Streetpilot' brings Garmin Turn-by-Turn navigation to the iPhone platform for the first time. With a familiar Garmin look and feel, it boasts free traffic alerts, lane assist with junction views and address book integration. The downside is that it downloads map data 'on the fly' and does not store a map on-board. Available now in the US Appstore for $39.99.

The next Garmin news item concerns two new large screen PND's, the nuvi 2440 and 2460LT. The nuvi 2400 series devices boast five inch screens and with the 2460LT adding voice activated control and Lifetime traffic. Prices start at £179.99 for the nuvi 2440.

And finally, Garmin have today announced the GTU 10 GPS locator. Coupled with its web-based tracker service, the GTU 10 can be used to track your personal property, dog collar or anything else you may wish to track. You can then track its location via the webY, smartphones or compatible nuLink devices. £179.99 gets you the GTU 10 and one years standard tracking.
All thumbnails clickable for larger versions


Comments
Posted by gatorguy6996 on Wed Jan 05, 2011 12:22 am

The 24xx's also reportedly adding user-customizable menu's, so most accessed features can be moved to the first page. And that brings up a thought. . .

With Garmin now adding MapThemes, like TomTom, trafficTrends, like Tomtom, customizable menus's, like Tomtom, Live services, like Tomtom, does this make Garmin more or less a reliable and well-behaved Tomtom?

---

Garmin 1695 / 255 / 760 w/MSN - Droid w/Google nav + Navigon - Navigon 8100T - Dakota10 - GPSMap76C - GeoMate Jr.
Posted by gatorguy6996 on Thu Jan 06, 2011 11:41 pm

And add new avoidance options including specific roads, as well as advanced detour functions to the new 24xx's.

---

Garmin 1695 / 255 / 760 w/MSN - Droid w/Google nav + Navigon - Navigon 8100T - Dakota10 - GPSMap76C - GeoMate Jr.
Posted by MaFt on Thu Jan 06, 2011 11:44 pm

i've actually been very very impressed with recent garmin's. to the point where after deferring from them to tomtom i've gone back to my original allegiance :D

MaFt

---