CES Las Vegas 2011 - Fujifilm FinePix XP30 with GPS


Article by: Darren Griffin
Date: 5 Jan 2011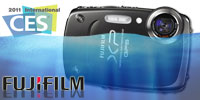 Fujifilm have releases the FinePix XP30 ahead of CES. The XP30 is the world's first rugged compact camera with water, shock and dust protection in a device that also supports GPS.

With a 14-megapixel resolution and a 5x 28-140mm optical zoom, the XP30 will tick many of the boxes for the hobby photographer and being waterproof to 5 metres it would be ideal for the family holiday or the wet British summer.

Built-in GPS support in cameras has been slow to take off but with many of the most popular photo applications and web sites supporting GPS tagging it is a genuinely useful feature.

The XP30 tags each photograph with location data, either as Lat/Lon or place name. But the XP30 takes photo tagging to an entirely new level. You can bring up a previously snapped photo in camera and the camera will not only tell you where it was taken but also how far it is from your current position. Not just that, it will even give you directions to get to that spot!

And on top of simple photo tagging, the XP30 also has a route logging facility. By storing location data at 10min intervals you can use the supplied MyFinePix Studio software to view a map of your route along with the pictures you took in Google Maps.

Other features include HD movie recording at 720p, panorama mode and image stabilisation.
All thumbnails clickable for larger versions


Comments
Posted by smithgt1971 on Fri Jan 07, 2011 12:29 pm

Looks good. I currently take a Lumix TZ10 for my GPS tagging, and a Lumix FT1 for underwater shots, so its nice to see both features combined in one unit. Any news on pricing?

---
Posted by Darren on Fri Jan 07, 2011 1:57 pm

£199.99

---

Darren Griffin - Editor