Broadcom Announce First Quasi-Zenith Satellite Position Fix


Article by: Darren Griffin
Date: 18 Nov 2010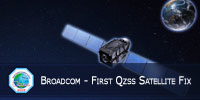 Japan's Quasi-Zenith Satellite System (QZSS) is a regional system using a network of three satellite vehicles in orbits that are optimised for operations over Japan. Intended to provide communications services and positioning information, it will be used in a GPS augmentation role and so will be used in conjunction with existing GPS networks.

The first launch took place in September. Satellite 'Michibiki' is the first vehicle in orbit and will be followed by two more with full operation anticipated by 2013.

QZSS is intended to enhance the current system with increased speed of fix, accuracy, reliability and availability. It's a relatively low cost solution, much cheaper than Europe's Galileo solution which requires an entirely new and eye wateringly expensive GPS network.

In September, Broadcom announced a single chip GPS that supported QZSS. With the Japanese Space Agency (JAXA) beginning the transmission of ephemeris data this week, Broadcom have now confirmed their first position fix using the data transmitted by Michibiki.

Broadcom's BCM4751 chipset is single-chip GPS receiver with low power consumption, higher sensitivity, small footprint (3cm²) and support for GPS, SBAS and QZSS.

For more information see Broadcom's web site at www.broadcom.com.
Comments
Be the first to comment. Click on Post Reply below.